1. Background and Importance
The ventriculoperitoneal shunt is a common neurosurgical procedure. Complications are considerably frequent. Reported rates of valve infections are relatively high, ranging from 3% to 15% in various studies [
1
,
2
]. However, the occurrence of a calcified subdural empyema as a ventriculoperitoneal shunt's complication is extremely rare [
3
]. Subdural empyema is a critical neurosurgical condition which may result from neurosurgical intervention, trauma, meningitis, or ear, nose, and throat (ENT) infection with reported mortality rates fluctuating from 4.4% to 24% [
4
]. It can cause persistent seizures, hemiparesis, or stroke. Through this observation, we are reporting an unusual case of bilateral calcified subdural empyema which occurred 8 years after a ventriculoperitoneal shunt surgery was performed in our facility with favorable outcomes.
2. Case Presentation
This case is about a 13-year-old teenager, who benefited from a ventriculoperitoneal shunt in 2010 for active hydrocephalus. The post-operative course was simple, the child did not benefit from a regular follow-up afterwards. He was presented in our department with a diffuse headache which had been evolving for 2 months before his admission, associated with vomiting. The clinical examination showed an intracranial hypertension syndrome and left hemiparesis. General and neurological examinations revealed no other abnormalities. A cerebral CT scan without injection of contrast material revealed a calcified bilateral subdural empyema with a huge mass effect (
Figure 1
).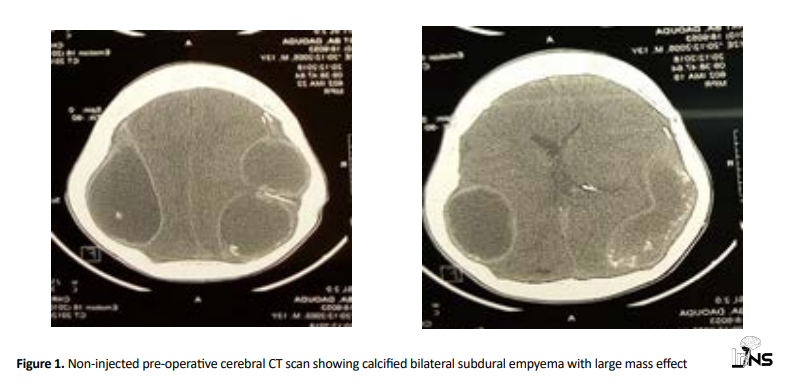 The empyema was surgically evacuated and the ventriculoperitoneal shunt material was removed. During the intervention, a pus sample was taken and analysis revealed a strain of Escherichia coli. The immediate post-operative course was favorable under adapted antibiotic therapy with full resolution of the signs of intracranial hypertension and a significant setback of the hemicorporeal deficit. A follow-up brain CT scan was performed 3 days after surgery, which showed that the evacuation of the empyema was satisfying with a good re-expansion of the ventricles (
Figure 2
).
At the clinical follow-up 1 month after surgery, the family reported a recurring headache with some episodes of vomiting. A cerebral CT scan was performed then. It showed a resurgence of subdural empyema with active hydrocephalus. The patient was subsequently taken to the operating theater and an external ventricular shunt was performed. After 3 weeks of antibiotic therapy, the valve was internalized once the Cerebro Spinal Fluid (CSF) examination was clear. The post-operative evaluation was favorable, although the child still had a discrete left hemiparesis, which called for the initiation of a physiotherapy protocol.
3. Discussion
Infections are the second leading cause of ventriculoperitoneal shunt valve dysfunctions, with a reported rate fluctuating from 3% to 15% [
1
,
2
]. According to many studies, the risk factors are various including young age, post-operative CSF leakage, and a lack of asepsis during surgery [
2
]. Valve infections usually occur between the first weeks to several months following the surgery [
1
,
4
]. However, a calcified subdural empyema complicating a ventriculoperitoneal shunt is extremely rare [
3
,
5
]. Kasliwal et al. reported a case of calcified hemispherical subdural empyema occurring 9 years after a ventriculoperitoneal shunt [
3
].
No case of bilateral calcified subdural empyema complicating a ventriculoperitoneal shunt has ever been reported in the literature. The spreading of the infection is variable and can reach huge proportions once the subdural space is infected [
6
]. The pathogenesis of subdural empyema was not elucidated in our case. The empyema is thought to be related to a subdural effusion secondarily infected either by meningitis or by contamination of the subdural space or by an infection of the operative scar [
3
,
7
]. The process of calcification in subdural empyema as in subdural hematoma is not well known. This process takes 3 to 12 months after pus constitution and is influenced by local factors such as blood stasis associated with a venous drainage default [
8
]. Boyd and Merrel found that there is a metabolic predisposition to calcification, correlated to connective tissue thickness [
9
].
Unlike acute forms, these empyemas can remain latent for a long time. The formation of an inner membrane limits the infection and thus protects the cerebral cortex [
3
]. Indeed after the ossification stage, those lesions stop growing and some authors discuss the necessity of surgery [
10
,
11
]. In our patient's case, surgery was motivated by intracranial hypertension signs. This surgery consisted of the evacuation of the empyema with removal of the infected material concurrently. Intravenous antibiotic therapy adapted to the antibiogram was then started. This therapeutic approach is most commonly used in valve infections [
12
].
4. Conclusion
Subdural empyema is a rare but acute complication of ventriculoperitoneal shunts. However, the infection may remain latent for a long time and lead to delayed morbidity as reported in this observation which means a regular and long-term follow-up of ventriculoperitoneal shunt patients is requisite.
Ethical Considerations
Compliance with ethical guidelines
The participants were informed of the purpose of the research and its implementation stages. A written consent has been obtained from the subjects.
Funding
This research did not receive any grant from funding agencies in the public, commercial, or non-profit sectors.
Authors' contributions
All authors equally contributed to preparing this article.
Conflict of interest
The authors declared no conflict of interest.